WebRTC is a technology framework that makes it possible to have "Real-Time Communication", i.e. voice and video calls, directly in the browser. It's been steadily maturing over past few years, and now that WebRTC is built-in to three of the top browsers (Chrome, Firefox and Opera), it is poised to make a big impact.
What is WebRTC? Imagine having functionality like Skype on your computer without installing any plug-ins or software. Like Skype, WebRTC could be a real game-changer for the world of phone calls.
I've covered the importance of the voice channel for customer service here and here. (Bottom line: Your company has to get it right to stay competitive.) So does that mean WebRTC is a game-changer for customer service?
It Was a Big Year
2012 was a huge year for WebRTC. In addition to becoming "standard equipment" on a number of major browsers…
1) There is a now a book dedicated to WebRTC;
2) There is a conference: WebRTCExpo; and
3) WebRTC is getting adopted by a number of cutting-edge companies like conference-calling service UberConference.
The Potential in Customer Service
How does this relate to customer service?
Today the "legacy" call center experience is a significant hindrance to delivering good customer service, due to some old bad habits – putting callers on hold, inflicting them with phone menu hell, or making them repeat information to agents.
Many companies (including Fonolo) believe that the best way to fix this experience is by using the web or smartphone as a more intelligent "front-end" to the call center. There are two main reasons why:
1) The browser or mobile app provides a rich interface that can do a much better job of connecting a caller with an agent.
2) When the need arises to call a company, more and more people are already interacting with a company through the web or smartphone.
The concept of using the web as alternate starting point for a phone call, has been around for many years, starting with the simplistic "click-to-call" button. We've really taken it to new levels at Fonolo (see image below).
As you can see, you can use web-based or phone-based interface to navigate ("sales or service?") answer pre-call questions ("Customer ID? Order Number?") and then connect with an agent. The problem is that, no matter how pleasant we, as developers, make that interface, when it's time to start talking to the agent, there's always an awkward transition from the web to the phone.
WebRTC would allow us to eliminate that transition. You could have that convenient, visual experience and then smoothly transition to a live voice conversation with an agent. In fact, you could transition from web to voice and back several times until the issue was resolved. There's a whole new world of potential.
Reality Check
There are some major hurdles to reaching WebRTC's full potential.
First, it's not available in all browsers, and we know some browsers will take their time (lookin' at you, IE!). Even after widespread browser adoption, it will take time for users to upgrade. Meanwhile, on the mobile front, WebRTC is still in an infancy stage.
The bigger problem is adoption in the call center. I can tell you, from first-hand knowledge, that call centers are unusually resistant to new technology. It's going to take years before contact centers are ready to have browser-based calling for their agents. In the interim, they could have WebRTC on the customer end and regular telco-voice on the agent end. I think there's a good chance we'll see some implementations along those lines in late 2013.
There is huge potential, but we won't witness any significant impact on customer service until 2014 or later. If you're interested in keeping up with WebRTC developments, this twitter account is a great resource.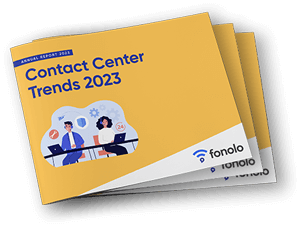 Trend Alert! Contact Center Industry Predictions for 2023
This report offers perspective on where the contact center industry stands today, plus our trend predictions for 2023.