Is social media a net plus for the contact center industry? That question is turning out to be quite complicated. In my last post I talked about the enormous pressure social media has placed on call centers and speculated that the result has not been the best use of resources. I claimed that many of the interactions between a company's "tweet response team" and customers were shallow and cursory and almost robotic (in some cases, actually robotic). And I speculated the investment in those teams (software + staff + management time) crowded out other, more urgent, innovation in the contact center.
Well, I certainly got a lot of feedback on that one! As you might expect, people involved in social media disagreed. But others said, "Hey, I've been thinking that for a while, but no one was said it out loud!"
The conversation continued during our analyst panel discussion last month and our recent call center manager panel discussion last week. As a result, I'm now certain that …well… it's complicated!
Social Media Has Been Very Successful in Some Cases

During our last Google Hangout, Scott McIntyre was quick to point out the incredible success he had at BestBuy with Twitter: "We covered our costs within 60 days". He said Twitter was great at directing people to right product, which they would then purchase online. "Twitter is terrific for the retail sector."
Others reminded me of Dell's huge success with sales via Twitter. (See "Dell makes $6.5m from Twitter sales.") So maybe the distinction is sales vs. service? I can't find comparable stories of success on the service side. Please leave a comment here if you have one.
The Appeal of Text-Based Communication
Someone else on the hangout pointed out that it's the text-based nature of Twitter and Facebook that so many find appealing. We usually focus on the "social" nature of those channels, but maybe what's significant about them is they fit a communication style that has become the preference for many consumers.
That conclusion lines up with the fact that web-based live chat has been the fastest growing channel over the last few years. But it is still a small fraction of overall communications. Recent data from Forrester analyst Kate Leggett reminds us: "Voice is still the most widely used channel, with a 73% utilization rate. This percentage has not changed in the last 3 years."(Read her report here: http://goo.gl/HGyL9D.)
The Need for a Universal Hub
Maybe the problem is that implementation of live chat is uneven. You can't be sure if live chat is available for any particular company, or where to find it on the website. There's also the fact that live chat is rarely available in a mobile context. On the other hand, you can be sure that it has a Twitter and Facebook account and you can use those mediums from any device (even SMS, in twitter's case).
So maybe the key difference is the universality of the two networks – Facebook and Twitter – that have reached a true critical mass: 1) You can assume all companies are active on them and 2) You can interact any time, from any device.
What's Next?
While it's true that the "public shaming" aspect of social media is what forced companies to jump in, and that rushed decision crowded out other innovation, maybe that extra push was needed for the contact center to break through to a new chapter in its evolution. Perhaps SMS, web-based chat, Twitter and Facebook are all pre-cursors to the some new channel, that will combine the best of all of them.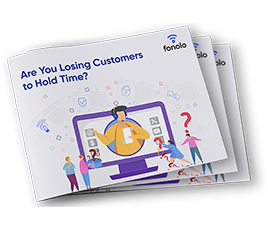 Are You Losing Customers to Hold Time?
Download our free whitepaper and learn about the best way to eliminate hold time and improve the customer experience.