One of the most critical tasks of a contact center manager is prioritizing the metrics that will be monitored. As the old saying goes, "you can't manage what you don't measure". What makes this task so daunting is the sheer number of metrics to choose from: Service Level, Customer Satisfaction Scores, Abandon Rate, First Call Resolution, Average Speed to Answer, Occupancy Rate, Net Promoter Score… the list goes on and on.
A recent discussion on LinkedIn's "Customer Service Innovation" group asked the question, "What are the top 3 metrics you track" and the answers are quite illuminating. (By the way, if this is a topic that concerns you check out "The Executive Guide to Improving 6 Call Center Metrics".)
The Must-Have: "Service Level"
Nearly every answer in the discussion put "Service Level" in one of the 3 top slots. This metric is defined as a pair of numbers: a percentage value and a time value in seconds. So, for example, an "80/20″ service level means 80% of calls answered in 20 seconds.
For many call center managers, maintaining these service levels is a top priority. For some outsourced call centers (BPO's) financial penalties (or even the loss of a contract) can occur if the service level isn't met. Most experts agree that service levels should be based on what the call center can reasonably achieve given their resources and expected call volume. Coming up with this figure requires deep analysis and hard work.
More on this topic:
Customer Satisfaction
The logic behind this is easy to understand. Clearly call centers want to create happy and loyal customers, instead of frustrated customers that lead to angry phone calls (and tweet raging). However, the subjective nature of customer satisfaction makes it tricky to measure.
First, you have to figure out how to pose questions to customers. For example, you can survey them via email, outbound telephone campaign, or by keeping them on the line after an interaction and using an IVR-based survey.
Then you have to figure out what to ask. Net Promoter Score is a common approach, where callers are asked if they would recommend the company to a friend. Or companies can ask customers to rank their experience on a numerical scale.
Finally, you have to figure out how to consolidate the results into a meaningful metric. One danger with an opt-in survey is "self-selection bias", where only customers with very strong emotions (usually negative ones) participate, thus skewing the numbers.
More on this topic:
Floor-level Metrics
The group of "floor-level" metrics is, in a way, the opposite of the customer satisfaction group discussed above. These are objective, quantitative metrics that help fine-tune the operation of the contact center. This group includes Average Speed to Answer (ASA), Auxiliary Time, Handle time, Adherence to Schedule, and many more.
Abandonment rate is a metric that we discuss frequently because it's one of the main reasons call-centers seek our call-back solutions.  Abandonment leads to high repeat calling (which can strain the call center system) and, of course, dissatisfied customers.
More on this topic:
Let us know
What metrics are you tracking in your call center? How did you choose them? Which one drives the most decisions? Let's chat!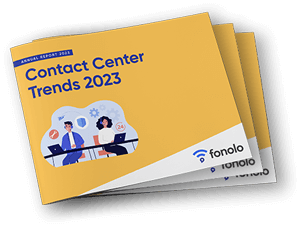 Trend Alert! Contact Center Industry Predictions for 2023
This report offers perspective on where the contact center industry stands today, plus our trend predictions for 2023.