Serving the public comes with its own pros and cons. The cons: It can be super difficult to meet everyone's expectations. The pros: When you do, it's incredibly rewarding; nothing is more satisfying than a happy customer. If someone calls you, and you're able to take them from angry to being pleasantly surprised and thankful, it's certainly an accomplishing feeling.
Although you might have a clear plan in place for how to service customers, chances are there's something you're missing. The problem is, that most contact centers don't know which pieces of the puzzle they need to fill. Luckily, there's a foolproof way of tackling this. If you utilize these 5 tips on a regular basis, you'll be sure to keep customers happy.
1. Show Customers You Care
Have you ever talked to a customer service rep and had the feeling that they just don't care?  In a service environment, customer perception is everything. Positive language can greatly impact how customers feel about an experience, and can often rescue a bad interaction, leaving it on a high note. Be sure to use phrases like, "I will keep you updated", "I will take responsibility", or "I'd be frustrated too."
2. Make Changes to Better Serve Customers
Today's customer is listening, researching, and posting. Put in the research to fully understand your customer base and learn how you can better serve them (do this at least twice a year). Whether it's a small change on your website's self-service page, or adding call-back technology so customers don't have to wait on hold, there are many changes call centers can make today to improve the customer experience.
3. Test Your Own Experience
Improving the customer journey has the potential to increase customer satisfaction by 20%, lift revenue by up to 15%, and lower costs by as much as 20%. Contact your own company and see what the customer journey feels like. What's it like to chat with an agent or call the contact center? Then do the exact same thing with your competition. How does it compare? Are you better or worse? Make changes accordingly.
4. Keep Your Agents Happy
Agent attrition is a top challenge. Studies have shown that call center agents quit most often because of their work environments rather than their compensation. Companies need to find more ways to increase agent engagement, improve coaching, and motivate call center employees. Find regular activities to implement here.
5. Allow Agents to Go Above and Beyond the Call of Duty
We've all had our share of amazing customer service experiences and can attest that when a company goes above and beyond the call of duty, we in-turn become loyal customers. When analyzing complex interactions, make sure you check to see if there was something more the agent could have done. Communicate with your agents and encourage them to go beyond the scope of their work. Here's an example of 5 well-known brands that exceeded customer expectations.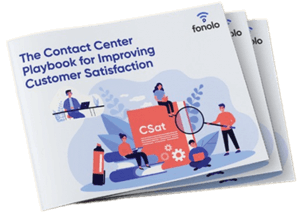 The Contact Center Playbook for Improving Customer Satisfaction
In this handy playbook, contact center leaders will learn the ins and outs of improving customer satisfaction.