It's imperative in a time of high competition and demand that your contact center is in optimal condition. Much like ensuring that our young are safe from harm's way, yet still have the freedom to explore and grow, contact center leadership must ensure that their departments are safe-guarded while still maintaining the capability to grow internally and externally both in service and in excellence.
Business consultant Peter Drucker noted, "the purpose of a business is to create a customer," and the purpose of the call center is to maintain the customer. Ultimately, contact centers exist to serve and help your customers while providing an exceptional experience; this above-and-beyond service leads to more satisfied consumers who, given the right experience, will stay on as loyal customers and continue to invest in the brand. Now, that sounds easy enough, but contact centers are well aware of how much of a challenge that is, as keeping customers happy is their primary focus.
With these realities in mind, let's take a look at three proven ways to baby-proof your own contact center by providing exceptional customer experience and keeping the bottom line in mind.
Use Advanced Analytics
Contact centers are all too familiar with the importance of measuring and tracking success. The must-have "service level," call abandonment rates, first call resolution (FCR), average speed of answer (ASA), average time in queue, and other metrics are top of mind for managers and agents alike. Measuring analytics has become standard practice in the contact center; however, according to McKinsey, most organizations don't take full advantage of the technology and applying advanced analytics in a way that puts the customer first.
Only 37% of organizations feel they use advanced analytics to create real value. This leaves a significant gap in opportunity for contact centers to implement and see the gains of applying advanced analytics to improve their overall operations.
Offer Call-Backs
Here's the bottom line: Call-backs are powerful. Offering them gives your customers choice, thereby empowering them, giving them their precious time back, and positively affecting how your contact center operates. Moreover, call-backs ensure your brands future successes in many ways, among them: smoothing out call spikes, lowering abandon rates, and improving the experience for both agents and customers. And: Call-back technology is dynamic and adaptable (the key is offering them to customers on their preferred channel(s)).
Engage your Employees
This ultimate baby-proof tool in the contact center is too often overlooked. The reality is, working in a contact center is no easy feat – the struggle, and labor attrition, is real. The agents who staff your contact center are the primary contact of your brand for your customers; therefore, fostering a caring culture, educating agents in the business, and investing in them for the long term are all imperative measures your contact center must take in order to retain skilled agents and ensure the success and excellence of your contact center and the customer experience.
Baby-proofing your contact center isn't about implementing singular solutions to address individual problems. Much like baby-proofing a house, placing silicone corner covers on one table, when you have – multiple tables, electrical sockets, stairs, the list goes on – will do very little in protecting your young one. Instead, baby-proofing your call center is about looking at the whole picture and assessing where implementing changes will make the biggest impact, whether that's offering alternatives to hold-times, thinking of your agents, or making the most of metrics.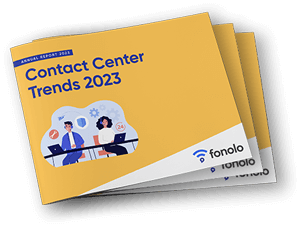 Trend Alert! Contact Center Industry Predictions for 2023
This report offers perspective on where the contact center industry stands today, plus our trend predictions for 2023.