One of our goals with the Fonolo blog is to expose our readers to a broad range of voices on a broad range of topics. We share a lot of diverse content, including lists of industry reports, links to discussion groups, and our own white papers. I know it can be hard work to keep up with all that reading.
Sometimes, for whatever reason, you're in the mood for some lean-back content. So, this week, we put together some video you can queue up and watch.
Cisco's Amy Chang Talks about Cognitive Collaboration
Last month's Enterprise Connect conference was Amy's debut appearance as part of the Cisco Collaboration team (the division that includes their call center business). She joined the company when Cisco bought Accompany, and replaced Rowan Trollope (who left to be CEO of Five9 – see below). This video is mostly about their WebEx plans, with a bit of call center content, but her energy is really infectious; it's a joy to watch. Our coverage of Enterprise Connect can be found here: "Big Vendor Announcements Focus on AI at Enterprise Connect."
Five9 CEO Rowan Trollope on Why the Call Center is Exciting Right Now
This is from Dreamforce, last October, very soon after Rowan became the CEO of Five9. He has a great opening story about the Pony Express. I won't spoil it here. Key quote: "The Contact Center is going to change more in the next five years than in the last 25." And another: "We spend $24B on technology enabling agents to sit on the phone and an order of magnitude bigger than that spent on the labor … the travesty is we're not using people for what they're good at … let computers do the boring tasks, and we can reduce agent turn-over." See our related post: "AI is Not Reducing Call Center Agent Employment."
Live from @Dreamforce! @rowantrollope has a packed house for #AI & the future of the contact center! Check it out #… https://t.co/RGOQtkMIvL

— Five9 (@Five9) September 27, 2018
Bonus: Here is Rowan last week on Mad Money with Jim Cramer.
Call Center Panel from Enterprise Connect
Enterprise Connect included a panel featuring:
Sheila McGee-Smith, President and Principal Analyst, McGee-Smith Analytics
Chris McGugan, Senior Vice President of Solutions & Technology, Avaya
Vasili Triant, Vice President and General Manager, Cisco Customer Journey Business Unit, Cisco
Rowan Trollope, CEO, Five9
Tom Eggemeier, President, Genesys
Paul Jarman, CEO, NICE inContact
Al Cook Vice President, Product Management and Engineering, Twilio
This is a 40-minute video but worth the time. Take note of a spicy quote from Al Cook: "It is fundamentally untrue that you can slap some APIs on the side of your monolithic architecture and claim that it is as customizable as something that is designed to be customized."
Vonage CEO Alan Masarek on How They Pivoted Their Iconic Brand
This is an interview with analyst Dave Michels. You can find the original post here. Vonage has had a fascinating journey, from consumer VoIP service to enterprise communications powerhouse. We covered their recent acquisition here: "Vonage Acquires NewVoiceMedia – What Does It Mean?" Their Nexmo acquisition brought them into direct competition with Twilio, in the CPaaS space. More on that here: "CPaaS Triumphs: Now What?"
Directly CEO Antony Brydon on What's Holding Back AI-Based Customer Service
A little bit off the beaten path, Directly has a very interesting approach to customer service. They provide a platform that helps coordinate knowledge from product experts. But the twist is, they draw those experts from outside the company itself. Paraphrasing Antony: "Companies have ecosystems of users with millions of hours of expertise in their head and millions of hours of free time … we bring the ability to tap into that …"
Read more on their blog post. And here's something related from our archives: "How to Think about Chatbots in a Big Picture Kinda Way."
Fonolo Success Story with Nutrisystem
Of course, I've got to throw in one video about our award-winning call-back solution. This video includes an interview with two executives from Nutrisystem, explaining how they achieved solid ROI with call-backs. I was reminded of this one because it was featured in our new whitepaper: The Contact Center Guide to Managing Spikes in Call Volume.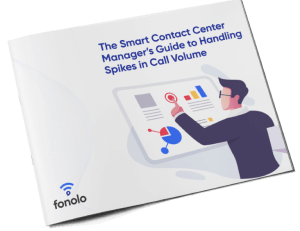 How to Manage Call Spikes in the Contact Center
Download this free guide to learn how to protect your contact center from call spikes.