The RingCentral-Avaya announcement from last week had a lot of industry watchers scratching their heads. The benefits to RingCentral were clear: They just bought an exclusive position for their UC offering with the world's largest reseller ecosystem. But what is Avaya's main benefit? Obviously, the cash component was a key to it. (Although I don't fully understand the inner-workings of that cash-crunch.) But was hobbling their UC business too high a price to pay?
I think the real benefit here is that the deal frees Avaya to focus fully on its crown jewel, the contact center business. A Mitel merger, or any merger for that matter, was going to add confusion in that area. All the moves in the last few years make sense if you think of it in terms of clearing away distractions from a focus on contact center.
Quick Review
It's hard to overstate the influential position Avaya has in the call center space. Globally, no one can touch their install base (120,000 customers) or reseller ecosystem (180 countries). Yet they can't seem to shake their financial woes. In 2017 they declared bankruptcy to relieve pressure from mounting debt obligations. They shed some assets, restructured, and emerged as a publicly-listed company in 2018.
But the market wasn't happy with their performance and so they found themselves backed into a corner again. They announced that they were exploring "strategic alternatives" and then, in August, the CEO said that a conclusion would be announced in 30 days. For a while it looked like a Mitel merger was going to be the outcome but that fell through. One can imagine the pressure level was extreme at Avaya HQ when RingCentral rode to the rescue with their joint venture proposal.
Terms of the Deal
The cash: RingCentral is giving Avaya $500 million, divided between a purchase of "preferred equity" and an "advance" on future payments. I don't know the internal details of Avaya's situation with its major shareholders/bondholders, but clearly there was some pressure on them to find new cash.
The UC partnership: RingCentral's strength is UC, and now it will be the exclusive provider of UcaaS to Avaya. This an obvious win for RingCentral's goal to expand globally. They just bought themselves the largest reseller channel in the world. Whether that channel will work smoothly for selling RingCentral is still TBD, but there's no question that RingCentral's UC competitors are shvitzing at the thought of 5000 resellers now carrying the RingCentral's logo.
Focussing on Call Center
The most repeated criticism of Avaya is that they were slow to embrace cloud for call center. They could have taken on-ramps like acquiring Echopass (picked up Genesys) or Contactual (picked up by 8×8). By the time the larger cloud providers were for sale like InContact (picked up by Nice) or Interactive Intelligence (picked up by Genesys), Avaya was not in financial shape to make such big moves.
Indeed, a few days after the RingCentral deal was announced, Avaya issued a press release an its title tells you exactly where their focus lies: "Avaya Accelerates Investments in its Next Generation Contact Center Cloud Platform" :
 … Avaya IX-CC will enable organizations of all sizes to smoothly transition from their on-premise deployment to a multi-tenant, enterprise-grade cloud architecture …  "This is a natural evolution of our product development process to fully embrace a cloud-based, multi-tenant platform with feature-rich applications and the flexibility of a microservices architecture,"
— Chris McGugan, Avaya Senior Vice President, Solutions & Technology
Ready to be Bullish
It's hard to keep the big picture in focus, through all the twists and turns, but if you want the bullish case for Avaya, this is how I would write it:
2017: They used bankruptcy to remove the distraction of legacy debt.
2018: They sold off their networking division to remove the distraction of a sector they weren't going to dominate.
2019: They brought in fresh cash and pledged that RingCentral would be their UC play. Another distraction removed.
So, the field is cleared, like never before in Avaya's history, for an aggressive focus on the area where they are strongest.
Maybe that's the best you could ask for.
Check out our earlier Avaya coverage: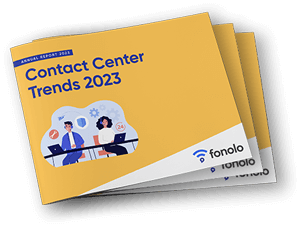 Trend Alert! Contact Center Industry Predictions for 2023
This report offers perspective on where the contact center industry stands today, plus our trend predictions for 2023.