Why do we treat call center overwhelm like a necessary evil? Call volumes spike, agents get swamped and customers get grumpy; just another day in the contact center?
Times have changed, and the call center industry with it. Our phones no longer have cords, the internet exists, and agents no longer have to be tethered to the office. And what's more, there's technology — fantastic software that helps you track everything from customer touchpoints to customer feedback.
Yet, our industry largely operates on the assumption that unexpected spikes in demand and chaotic call surges are unavoidable. It's the part of the job that agents have no control over, and yet they bear the heaviest load when the time inevitably comes.
Overwhelm should not be a part of a call center agent's job description. Why do we treat call center burnout like a necessary evil? #overwhelm #burnout #cctr Click To Tweet
The fact is, overwhelm should not be a part of a call center agent's job description. There are so many resources and tools out there that can help you 'flatten the curve' (yes, we mean the call-spike curve) and make periods of high call volume more manageable for your team so they can focus on providing excellent customer service.
Have we piqued your interest? We've put together some insights and resources to help you escape the stress of call spikes forever— read on!
What Causes Call Volume Spikes?
The first step is to identify what causes your call spikes. While these may differ depending on your industry, there are a few common causes that remain consistent across most call centers.
Holidays and vacation season. This is especially true in the retail sector during popular shopping periods.
Significant events. It's important to stay on top of current affairs and anticipate why they might prompt your customers to reach out to your support team.
Promotional periods. Be prepared for public response to any new campaigns or announcements from your business.
If you aren't doing so already, create a forecasting plan and begin tracking your call center activity throughout the year. By taking note of trends in your call volume, it will make it easier to predict periods when you will need to have extra agents or additional measures in place to provide support.
Of course, as COVID-19 has taught us, there will be instances where you cannot predict sudden demand from your customers. Some of these scenarios may include:
Public emergencies. This includes anything from natural disasters to global pandemics.
System issues. Perhaps your website has a major error, or there has been a recall on one of your products.
Breaking news. From falling stocks to PR control, your agents will need to be ready to address customer concerns.
The above scenarios are more challenging to plan for, however, that doesn't mean you can't be prepared for sudden call spikes. The key lies in having a strong crisis plan, as well as a strong omnichannel approach to your system — more on that later.
What Do You Risk by Normalizing Call Center Overwhelm?
When your call center is experiencing a surge in demand, it's your agents that bear the brunt of the situation.
When your call center is experiencing a surge in demand, it's your agents that suffer. But you can save a lot of money without making them take the brunt of it Click To Tweet
There's no way to avoid fluctuations in your call volume, and for many years it was an unavoidable aspect of the job. Even today, job postings for call center agents often demand individuals who can "work in high-stress situations" and "thrive under pressure".
But according to Toister Performance Solutions Inc., a whopping 74% of contact center agents are at risk of burnout. Overwhelm can be a big contributor to this, which can lead to the following challenges:
Poor performance. Agents experiencing burnout often exhibit lower productivity and quality of service, which may also reflect in their activity metrics (KPIs).
Toxic culture. Dissatisfaction across your team of agents may breed a negative culture, which can be difficult to dismantle.
Employee turnover. According to this study by Cornell University, replacing a single contact center agent will cost the average employer 16% — or 2 months — of a typical worker's pay.
How Do You Reduce Call Volume Spikes?
There's no way to eliminate unforeseen call spikes — but it is possible to manage them without overflow or putting extra stress on your team.
It's important to ensure your operations are set up so that the initial impact can be absorbed through other channels, leaving your agents with a manageable queue of customers and the bandwidth to provide excellent service.
Here are just a few ways you can do so:
Evaluate Your IVR System
A highly efficient and user-friendly IVR system is the first step to alleviating stress on your agents. This is often the first touchpoint for your customers, so it's important to ensure that the system directs them through the correct channels so they can have their issue resolved quickly by the correct department.
A high rate of call transfers puts a higher burden on your agents while creating a frustrating experience for your customer.
Take an Omnichannel Approach
There are so many different ways to communicate with your customers — and they expect you to give them plenty of options. An omnichannel approach is the best way to encourage them to find the solution elsewhere, reducing the pressure on your call center agents.
Here are some of the most popular channels to consider:
1. Online self-service/FAQs
Having a database for your customers to explore will help eliminate some of the more simple, repetitive questions that your agents encounter.
2. Chat support
While a chat support system still requires the operation of an agent, it is a lot less labour-intensive to manage while providing the human touch your customers are looking for.
3. Social media
Online platforms like Facebook and Twitter have become popular touchpoints for businesses and their customers. Like chat support, it's less labour intensive to manage and easier on the representative managing multiple queries.
Create a Crisis Plan
If COVID-19 has taught businesses anything, it's that a large-scale emergency can strike when you least expect it — and contact centers are key when a crisis does strike. Don't be caught unprepared in future situations. Take some time to analyze your operations and come up with a back-up plan to support your agents during challenging periods.
Call-Back Technology
Nothing adds pressure to a call center agent's workday like a huge queue of customers. Why? Because the longer the customer waits on hold, the more frustrated they are by the time they connect with a representative.
Luckily, there are easy and affordable call-back solutions out there. The concept is pretty simple: customers who enter the queue can opt for a call-back service, enter their phone number, and hang up. The software holds the customer's place in the queue.
When the next agent is available, the system calls the customer and they are connected to an agent. This helps to create a more positive customer experience while alleviating unnecessary pressure from your team.
Nothing adds stress to a call center agent's workday like a huge queue of customers. Reduce the queue and you'll relieve a lot of pressure. #cctrmanagement Click To Tweet
The impact is doubly strong when you allow customers to schedule call-backs at a specific time later. This helps to prevent call-backs stacking up in the system because you can determine when you allow call-backs to be scheduled (i.e. at a quieter time in the week).
Strategic Staffing
It only makes sense to have extra hands on deck during an anticipated call spike period. Use your call center's forecasts to determine how many additional agents you will need to handle incoming queries, and schedule them accordingly.
This is a very common practice for many call centers but it's inefficient and has a lower ROI than call-backs. This tactic is most effective when combined with the other three tactics in this list.
Resolving a customer issue through a live agent will ultimately cost you more than resolving their problem via live chat or online FAQ.
The best way to reduce hold time and the other effects of call-spikes is by directing basic queries to alternative channels and offering other customers call-backs. This allows your agents to focus on tackling the unique issues that require a human touch without feeling pressured!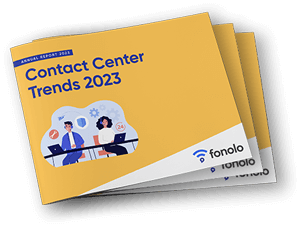 Trend Alert! Contact Center Industry Predictions for 2023
This report offers perspective on where the contact center industry stands today, plus our trend predictions for 2023.