Are you truly listening to your customers?
Sure, your agents hear their concerns and issues each day. But staying in tune with their desires and expectations requires a more deliberate effort. 
Customers are not forthright with their expectations, but they know a sub-par experience when they encounter one. And if you want to keep them happy and brand-loyal, you need to develop solutions to their problems.
Customers are not forthright with their expectations, but they know a sub-par experience when they encounter one. #CX #CustomerService
Click To Tweet
Here are seven things your customers want your contact center to know:
They want easy solutions
Consumers hate solving problems. They don't want to explore your labyrinth of an IVR or flip through dozens of FAQ pages. That's why creating reducing friction in your customer experience is so important.
Take time to walk through your customer journey and ask yourself, "How can I simplify this?" Make sure the steps are highly intuitive or clearly outlined. The less guesswork involved, the better!
They hate repeating themselves
It's not surprising that this is one of the biggest pet peeves among customers. There's a reason why "as per my last email…" is one of the most relatable responses for working professionals. 
By making your customers repeat themselves at different stages of the customer journey, you put the onus on them to track the issue. That's not much of a service! By investing in a fully-integrated omnichannel system, you can empower your agents to pick up conversations where they last left off, creating a seamless experience.
They want more service options
Today's customers are all about choice. With so many communication channels available, they're looking for businesses that can connect with them anytime, anywhere.
While the voice channel is here to stay, it's important to offer additional options for customers who aren't ready to pick up the phone. Again, an omnichannel system can help you carry conversations from email to Twitter, to chat-support, and beyond.
Scripted responses are a big turn-off
There's a reason why people value the undivided attention of others. After all, there are few things more frustrating than pouring your heart out only to receive a half-hearted response.
This is what your customers get when you respond with templated, scripted responses. If they spend the time to outline their issue, the least you can do is respond authentically. Train your agents to customize any templated responses so your customers feel heard.
Your website is too slow!
Think your customers will wait around for your outdated website or app to load? Not likely! Your millennials and Gen Z customers are known for their high expectations when it comes to technology.
Business growth in 2020 is driven by reducing friction in the customer experience and creating a journey that works smoothly and seamlessly. Consider upgrading your existing servers or find workarounds to ensure that your customers don't hit any bumps in the road.
Waiting on hold is a HUGE waste of time
Are you still making your customers wait on hold? This is another massive peeve: sacrificing precious time to resolve a problem, especially if it's not their fault!
Call-back technology is the best way to eliminate lengthy hold times. It's easy, saves both your agents' and customers' time, and will deliver you concrete ROI.
Quality service is better than speed
While your customers are unwilling to wait on hold, they have far more patience for businesses that provide excellent service at a slower pace. Customers are also willing to spend more for quality service, according to American Express. 
Once an agent is connected with a customer, they should focus on providing a personalized experience. Going the extra mile will help retain your best spenders and do wonders for brand perception!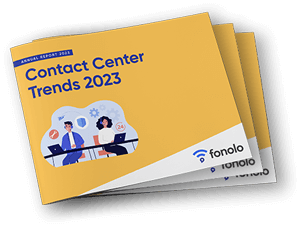 Trend Alert! Contact Center Industry Predictions for 2023
This report offers perspective on where the contact center industry stands today, plus our trend predictions for 2023.