Contact center technology has come a long way since its early years as a jury-rigged air traffic control system.
The pandemic has hastened many call center trends and compounded technological developments. We're expecting many more exciting innovations in the next few months.
Here are the latest and greatest call center technologies:
AI-Powered Voice Biometrics & Analysis
The last year demonstrated that the voice channel isn't going anywhere. Yes, digital channels, live chat, and email have their place, but people will always pick up the phone when they have a complex and urgent issue.
Voice-biometrics and AI-powered real-time analysis are both technologies we expect to blossom in the coming years. Amazon announced that their highly lauded 'Contact Lens' sentiment analysis would now be available in real-time, alongside tiered biometric identification inbuilt.
Voice isn't going anywhere; it's just going to get better.
Scheduled Conversations
Many contact center managers have heard of call-backs, but they don't realize that they've come a long way from the basic virtual queueing of yesteryear.
Advanced call-backs are now programmable in multiple ways, including offering customers the option of receiving a call-back later, at a time algorithmically chosen to help spread out call volume and reduce call volume spikes.
If you're using standard voice call-backs, but you haven't turned on the option to schedule conversations, you're missing out on the most potent tool in your toolbox. You can learn more about the power of Conversation Scheduling here.
Voice-to-Text
Although the last time you picked up a voicemail message was mid-noughties, the technology itself is being rapidly brought into the present.
We spoke with a couple of exciting companies — most notably the start-up Telbee, who believe that voicemail's future is all ahead. This voice-to-text solution defers callers by recording their message, transcribing it to text, and then forwarding it to the best agent to resolve it.
The agent then finds and answers and responds to the customer via email or chat, moving them from the expensive voice channel to cheaper digital channels without disrupting the customer experience.
Real-Time Learning & Knowledge Management Systems
The shift to digital presented a massive problem for call center hiring managers, who were already pretty stressed out due to ever-increasing agent attrition issues.
While knowledge management systems have been growing ever more intelligent, many companies still don't appreciate how much money they're hemorrhaging by letting tacit knowledge disappear when staff move on.
AI-powered Learning Management Systems for call centers will become increasingly popular in the next few years. Watch this space for some really interesting developments in call center tech. #cctr #cctrtech cctrtrends Click To Tweet
Learning Management Systems for call centers will become increasingly popular, with several custom solutions already on the market. The most advanced of these will incorporate live tracking for real-time training, assessment, and smart prompts for agents to record and recall knowledge and training in-call.
Intelligent Visual Support for Call Centers
Although it's unlikely that customers will ever want two-way video conversations (where they can see the agent and the agent can see them), there is a growing need for agents to see what customers see, particularly SaaS or software products.
Expect to see new companies providing Intelligent Visual Support for call centers, allowing agents to see customers' screens, and use augmented reality overlays to guide them through the solution.
Agent Monitoring & Motivation Software
Another consequence of remote working is the distance it creates between managers and their agents. 2021 will see more and better agent performance monitoring technology designed to lean on positive gamification concepts instead of relying on draconian intensive monitoring.
Platforms that increase agent engagement through gamification, healthy competition, AI-powered analysis, and real-time feedback or praise will be standard in the contact center by 2025.
Gig Working Platforms
Contact centers are one of the last industries to hold out against the gig economy for several reasons.
Gig economies only work if the task being 'gigged' is simple enough to be completed by anyone, with some support from an app. But customer support calls are not a simple journey from A-B. Resolving a complex inquiry requires active listening, empathy, patience, and a good understanding of the product and company procedures. These are skilled roles that cannot be standardized to the point where anyone can be dropped into any call.
However, as AI and machine learning become more advanced, smart knowledge management systems will make gig working feasible for the first time. That said, we are not sure we'd want 'just anyone' to handle calls for our company. Not all brands are as discerning about the quality of their support, and gig working will provide a cost-effective way to resolve issues like excess overflow and out-of-our service.
Watch this space!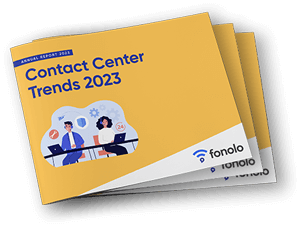 Trend Alert! Contact Center Industry Predictions for 2023
This report offers perspective on where the contact center industry stands today, plus our trend predictions for 2023.