Over 200 participants joined Fonolo for a terrific webinar unpacking annual trends and discussing Intelligent Call-backs" and other top CX trends.  Several participants were curious about Fonolo compared to Mindful (formerly Virtual Hold). We asked Fonolo CEO Shai Berger to elaborate on some of his answers during the webinar.
Q: How does Fonolo compare with Mindful?
Shai: Both Fonolo and Mindful provide the functionality of replacing hold time with a call-back which is what we call, generically, "virtual queuing." The concept has been around for decades but is gaining renewed interest because of rising consumer expectations.
Mindful is a real pioneer in the space, with deployments all over the world. They've been doing virtual queuing longer than anyone else. Fonolo's main innovation is offering virtual queuing as a cloud-based service. This innovation brings with it quicker deployment and lower cost. Mindful's solution requires on-premises deployment, which allows deeper integration, but with the trade-off of higher cost and complexity.
Fonolo is also very strong with multi-channel call-backs. When we first launched our product, we focused exclusively on click-to-call and Web Call-Backs (formerly Visual IVR) for the web and mobile, so we have deep experience and a very polished offering on that front. We added "Voice Call-Backs"  for customers who dial-in directly, so now we cover all the bases.
Q: How does Fonolo's pricing work?
A: It's an annual subscription fee, which is standard for SaaS-type businesses. One thing we felt strongly about, from day one, was having open and transparent pricing, which is virtually unheard of in the call center space.
There are many competitors to Mindful, like Avaya's Callback Assist or Cisco's Courtesy Callback, you pay an up-front fee for equipment and installation and then annual maintenance fees.
With Fonolo, there is just the annual license fee. In theory, the on-premises model could lead to better ROI over the course of several years, but we haven't seen such a case yet. (The appeal of replacing CapEx with OpEx has driven cloud solutions into almost every aspect of enterprise IT.)
We have datasheets that include cost comparisons with VHT and Avaya. Just contact Chris McLean (chris@fonolo.com), our Director of Strategic Accounts, and he will happily share them.
Q: What if security concerns preclude sending voice traffic outside our network?
A: Fonolo offers a cloud-plus-appliance approach that covers situations where you want to keep voice traffic on-premises. In addition to satisfying security issues, this approach also makes sense, if you want to handle the outbound calls through your own telco infrastructure.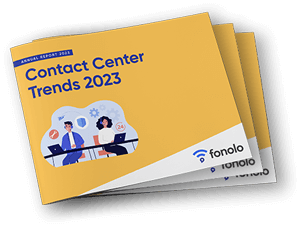 Trend Alert! Contact Center Industry Predictions for 2023
This report offers perspective on where the contact center industry stands today, plus our trend predictions for 2023.