Agent engagement has always been a critical ingredient for customer satisfaction.
Without it, efficiency, productivity, and customer satisfaction are almost guaranteed to fall. Contact centers have been learning this the hard way over the last decade.
So why is agent engagement more important now for 2022 than ever before? The answer is simple: customers have higher expectations for businesses, now more than ever.
They want:
Immediate service with shorter customer interactions;
greater empathy;
knowledgeable agents; and
flexible communication channels.
Our latest report, Contact Center Trends 2022, covers this important topic as our workforce faces significant labor shortages. Download the full report for free, or keep reading for a taste of what you can expect for the contact center industry next year!
What is agent engagement?
Here's how you can recognize an engaged contact center agent. The more behaviors they exhibit on this list, the more engaged they likely are:
Efficient and diligent.
Positive and motivated in their work.
Eager to improve and/or expand their skills.
Embraces the company's mission, vision, and values.
Keeping agents engaged will prove essential for contact center management in 2022. We'll explore this more in the next section…
What does an engaged contact center agent look like? They're efficient, happy, eager to improve, and knowledgeable about your company's mission. #ContactCenterTrends2022 #AgentEngagement #CustomerServiceLife
Click To Tweet
Why is agent engagement critical for 2022?
Experts predict the continuation of some 2021 contact center trends and the emergence of new contact center trends for 2022. Agent engagement will be vital in addressing those trends, making it crucial for contact centers going into 2022.
Trend #1: Agent attrition is worse than ever.
Agent attrition in 2020 was worsening; that contact center trend continued into 2021 and will continue in 2022. Turnover has plagued contact centers for a long time. One of your main jobs as a contact center leader is to recognize an engaged call center agent from an unengaged one.
The consequences of overlooking disengaged agents? Plentiful:
Lost employees to competitors.
Lower contact center morale.
Increased costs with training and recruitment.
Around 90% of BPO leaders agreed that agent attrition stagnated or worsened in 2021. Agent engagement will be crucial in managing high call center turnover rates.
Trend #2: Customer support is now a main revenue driver.
The most successful companies adopted the Product-Led Growth (PLG) strategy, an approach where all department activities – including sales, marketing, and customer support – are driven by the customer's perceived value of their offering. This is why freemium products are on the rise; customers want to experience the product before committing their hard-earned dollars.
According to Microsoft, 90% of Americans use customer service as a factor in deciding whether or not to do business with a company. Contact center agents are perfectly positioned to provide exceptional service experiences to their freemium users. This means customer agents are naturally adopting more of a sales role without the same commission of a sales representative. Without proper incentives to drive your customer support team, your business risks its most vital source of revenue.
How companies can promote agent engagement in 2022.
So we know that agent engagement is important, but how can we as contact center leaders promote it? Here are some options.
Embrace remote work permanently.
COVID-19 taught us that remote work is here to stay. This is true for all industries, including the contact center industry. Many BPOs have zero or almost no office space, with only 10% of call centers using only in-office work environments.
Most call centers report 10-40% of their agents working remotely, reinforcing the fact that while brick-and-mortar centers will remain, contact center leaders must continue to embrace a balance with hybrid call centers.
Improved work environments.
You can't expect agents to stay satisfied with the archaic, grey cubicles from the last couple of decades. To keep agents engaged, contact centers must consider the work environment they provide their employees – whether they're working from the office or from home – and ensure their setup helps them stay motivated, focused, and productive.
Improvements will look different for each contact center. Collecting feedback from your agents regularly will give you insights on how to best serve their needs. Here are some ideas to get you started:
Physical workspace – consider lighting, noise levels, and spacing between workstations so agents can work without significant distractions. For remote workers, consider providing a stipend so they can optimize their workspace according to their needs.
Benefits and perks – providing competitive compensation and perks can help improve your agents' quality of life outside of work, which will help them bring their best selves to work.
Team culture – ensure your agents feel supported and heard by creating opportunities for touchpoints and feedback. Building a culture based in empathy and compassion will help them emulate the same values towards your customers.
Embrace new technology.
We know that 2022 will continue the shift from traditional customer support roles to a mix of customer support and sales in one role. That and an increased standard for customer satisfaction will require companies to give their agents more support.
Contact centers can offer that support with cloud-based technology – Fonolo's Voice Call-Back technology is a great example: this simple, powerful tool allows customers to bypass hold-time without losing their place in line. This helps take the load off your agents, so they don't need to worry about frustrated customers and long queues.
Multichannel options will also be huge, as customers are looking for a seamless experience, no matter what platform they contact you through. Solutions like Web Call-Backs (formerly Visual IVR) can help bridge your digital channels to the voice channel without risking customer abandonment.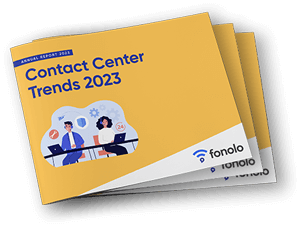 Trend Alert! Contact Center Industry Predictions for 2023
This report offers perspective on where the contact center industry stands today, plus our trend predictions for 2023.