Executives and managers know that contact center goal-setting helps usher in progress and bring about positive change. Why? In a busy customer service department, having an agreed-upon set of milestones helps you cross the finish line because it clarifies decision-making, keeps morale up, and can even reduce agent turnover.
Using the S.M.A.R.T strategy in goal-setting is key: it provides direction and helps focus your team's time and energy. In this blog, we'll discuss how to create goals that will take your call center to the next level. We'll look at customer service and professional growth goals for agents and discuss some specific goals for managers, too.
Why Do My Contact Center Agents Need Goals?
There's no question that contact center agents are some of the hardest working people in the world. Many work long, difficult hours in a stressful environment. Setting goals for call center employees is important because it helps to bring a sense of achievement to a role that often lacks it.
Goal setting is one of the most important methods of employee engagement, as it gives agents purpose, motivation, and stimulation throughout their day. #cctr #agentengagement
Click To Tweet
Individual goals improve agent performance and contribute to success, while team goals promote camaraderie. When everyone is working towards the same objectives, it brings an air of excitement to the workplace that lifts morale and improves outcomes at every level. That's the kind of company atmosphere that filters down into a positive customer experience, too.
Include Agents in Contact Center Goal-Setting
You can have as many customer service goals as you'd like for your call center but if you don't engage your agents, you'll have a hard time reaching them. Here are a few ways to involve your agents in contact center goal-setting.
Ask for employee feedback:
What do they see as barriers to delivering great customer service?
What are the most common customer complaints they hear?
What are the things they believe matter most to customers?
Look for opportunities to discuss and review goals often: 
Team meetings
Individual agent meetings
Performance reviews
Public displays in the call center
Set SMART Goals in Your Contact Center
Ensure proposed customer service goals are SMART:
Specific: Clearly state your goal in direct, descriptive and detailed language.
Measurable:  Set a goal that is quantifiable.
Attainable: Create realistic goals with targets you can reach using the tools available.
Relevant: Focus your goals on what the company needs as a whole and pertain to the needs of each team member.
Time-bound:  Aim to deliver results within a specific time frame.
Sample SMART Goals for Contact Center Agents
Decrease first response time for social media requests by 25% by [DATE].‌
100% of new agents will score 75+% in post-training evaluation in [QUARTER].
Increase first contact resolution rate by 10% by [DATE]. ‌
TIP
The best technology adapts to your SMART goals and supports your KPIs no matter what. Fonolo's Web Call-Backs (formerly Visual IVR) is 100% customizable — you can tailor call-back times to your business hours, offer after-hours support, and switch languages based on your customer's needs.
A Few More Thoughts About SMART Goals
In addition to having very specific timelines for each goal, it's helpful to set both long-term and short-term goals. Immediate goals are great for motivation as agents feel energized when meeting small targets. Longer-term goals help keep your organization on track. But long-term goals can be broken down into smaller, more bite-sized pieces, too. Doing so helps your team progress more quickly, which can motivate them as they work towards larger, long-term targets.
When setting your targets, make sure your agents are comfortable with achieving the goal in the given time frame — but not too comfortable! Set your goals carefully, because having too much or too little time can negatively affect your outcomes. A well-constructed goal sets clear expectations and creates a sense of urgency, which makes it more likely that your support agent will hit their target.
Professional Development Goals for Call Center Agents
Though goals should always be tailored to the individual agent, there are seven basic goals we think fit the needs of most customer service team members:
Improve Customer Satisfaction (CSat)
A great indicator of overall performance is an agent's CSat results. Tally their scores for the year, or even for all-time, to see their average score to date. Set a goal to improve those results in monthly increments. Make sure your goals are measurable and time-bound.
Complete Additional Training
87% of millennials believe that learning and development in the workplace are important, and 59% say that these training opportunities impact their decision to apply for a role.
Agents value call center training, so a little extra motivation and incentive to complete courses is an excellent way to keep them engaged. Monthly training goals will encourage agents to keep learning and growing. It will also improve agent retention for your contact center.
Increase First Contact Resolution (FCR)
Working to improve First Contact Resolution (FCR) numbers is a great goal as it can help your agents improve other KPIs, too. FCR measures the number of customer contacts resolved within a single interaction. In other words, your customer called for help and they received it in a single conversation.
If an agent has a notable FCR rate, they have a good handle on important aspects of the job, like product knowledge, customer service, and communication skills.
Decrease Average Speed of Answer (ASA)
Your contact center's Average Speed of Answer (ASA) has a deep impact on your CSat scores. ASA measures the average time your contact center takes to connect a customer call with an agent. Decreasing ASA is a great goal to add to every agent's professional development plan, as it encourages your employees to work together as a team.
FACT:
Fonolo's Voice Call-Backs save customers about 77 years of hold time annually. Customers can schedule a call-back or opt to receive a call-back once it's their turn in the queue. Fonolo technology waits on hold for them until it's their turn to be connected with an agent who is ready to help. Voice Call-Backs keep ASA low and give agents some breathing room, especially on busy days.
Seek Out Leadership Opportunities
It's important to help agents take steps toward their long-term goals. Often, a career goal for contact center agents is moving into a leadership or call center management position. Start nurturing this goal by encouraging them to seek leadership opportunities within their current work.
Leadership opportunities may include training, helping with hiring, or managing a social media account; there are plenty of options, though, so don't limit yourself to these three examples. Performing leadership tasks will give them a taste of what it's like to lead while preparing them for their next career move.
Interact with Co-Workers
Communication is especially important for new hires in remote or hybrid call center environments. Goals to improve internal communication and fellowship will contribute to agent engagement and happiness levels, leading to better agent retention.
Remember that when an agent is happy, their mood will shine through in their customer interactions, positively impacting CSat scores, customer retention, and business growth.
Improve Average Handle Time (AHT)
Average Hangle Time (AHT) is an easy key performance indicator to track. It's simply the sum of three numbers:
Talk time, or the time an agent spends talking to the customer
Hold time, aka the time a customer spends on hold waiting for an agent, not including time waiting for an IVR.
Wrap-up time or the time an agent spends on post-work after the call has ended.
Generally, the lower the AHT, the more calls your agents can get through, and the higher productivity will be in the contact center. Remember that though AHT can be helpful to track, it doesn't speak to call quality.
Sometimes, when AHT is too low, it means the agent isn't being thorough enough or providing a quality experience for the customer. When this happens, CSat scores will be on the lower side.
Why Team Customer Service Goals Are Important
Here's the thing: you can't improve customer satisfaction without customer service goals. And you can't meet call center goals without your agents. Here are a few reasons why team customer service goals are vital for your contact center.
Agent Engagement and Motivation
You don't need us to tell you that call centers have the highest turnover rates. But what if we told you that customer service goals engage agents more than lunchtime pizza or the odd work event?
Employees need to feel like they're making a difference and working towards something tangible to feel accomplished. Job satisfaction plummets without that sense of accomplishment, and you're left scrambling for new hires.
Your agents should have clear, measurable customer service goals to work towards in order to achieve something that feels more meaningful than dozens of daily calls.
Contact Center Performance:
Do you regularly measure KPIs? Keep track of customer satisfaction and measure revenue over time? These are a couple of tools that call center leaders use to measure performance. But contact center performance is directly linked to customer satisfaction — and you can't sustain that without customer service goals.
Customer Loyalty and Retention
Customer service goals include expanding your reach. However, they should also focus on customer retention. It's much more cost-effective to keep an existing customer than to acquire a new one; and easier to sell a new product to someone who has already purchased from you and trusts your brand. Customer service goals help you maximize that effect.
PS: If you want to retain more customers, give them autonomy in their customer experience with Fonolo's Voice Call-Backs!
FACT:
Companies that improve customer retention by 5% can increase profits by 25%-95%.
Constantly Measure Results and Get Feedback from Agents
Making your call center goals measurable makes them SMART, but how do you ensure the work actually gets done?
Assign one or two people to report on the team's progress. You don't want to make them into a whip-master, but bringing some accountability to your team is important.
Whether that's a monthly report, a spot in the weekly stand-up, or something that comes up in a 1:1 meeting, you need to be constantly measuring your progress in the way you defined with your team earlier.
Part of that measurement involves getting qualitative and subjective feedback from your customer support agents and managers.
How do they feel about the goal? Are they happy with the progress they're making? Are they seeing it produce the outcomes that were expected?
Successful Companies Work Hard at Goal-Setting
Don't just take our word for it. Thousands of companies worldwide experience excellent publicity, improved profits, and loyal customers through customer service goals. Let's look at one noteworthy example: the Ritz-Carlton.
Can you think of a better customer experience than the Ritz? That's because they aim for a 5-star customer service experience every time. The Ritz propels their customer service goals by giving employees autonomy to personalize and enlighten every customer experience with the $2,000 rule.
This means every staff member has the clearance to spend $2,000 on a guest to encourage them to come back to the Ritz every time. But the $2,000 isn't the important part. The idea is to give your agents enough autonomy to find ways to meet customer service goals.
Contact Center Goal-Setting For Managers
Managers and supervisors must schedule, monitor, and engage call center agents. They're also responsible for managing agent performance, keeping track of company KPIs and metrics, maintaining customer service strategies, managing budgets, and monitoring the latest trends in the contact center.
With so many moving parts, it's hard to measure a contact center manager's performance. Let's take a look at the qualities that set some call center management teams apart from others, and three performance goals that will benefit every call center manager.
4 Ways to Be a Better Manager 
If you want to be a top-notch call center manager, here's where you need to start.
1. Be communicative. 
Some call centers have thousands of employees — look at Wells Fargo's call center with over 40,000 employees, or AT&T's with 47,000! How do such massive call centers keep track of KPIs and standardize their customer experiences? One way is through consistent communication across call center management.
Call center managers need impeccable communication skills. At the service level, they must be clear yet tactful in responding to customers requesting escalations. Even outside of customer interactions, call center management must constantly communicate with call center agents, other departmental managers, and executives.
2. Act on data.
A call center manager might keep meticulous records and have strong call center reporting mechanisms for their department. But tracking alone won't improve customer satisfaction or overall agent performance.
Reviewing your performance data regularly is great, but that means very little if no action comes from it. The best call center managers consistently review data, compare it across different factors and circumstances, and develop ways to improve in response to that data.
3. Get on the phone. 
One of the biggest differences between a "boss" and a "leader" is how they motivate their team. Good call center managers will demonstrate the qualities they expect from their agents. They will also collaborate with their team to improve performance.
Many call center managers were once call center agents. As a result, they have firsthand experience with the number of calls and how customers interact. During periods of high customer demand, don't be afraid to jump on the phone lines.
Regular practice can enhance your skills and give you a better understanding of the challenges your agents encounter. This, in turn, enables you to identify areas that need improvement. Plus, you'll gain more credibility with your staff.
4. Demonstrate empathy. 
COVID-19 called for empathy across every sector, especially the call center industry. Agents who demonstrated empathy towards customers had a better chance of achieving their performance goals, particularly around customer satisfaction. Today's customer service isn't reactive: it's considered to be a key revenue driver, which makes empathy is a bankable quality.
It's also important for management to show empathy towards call center agents and prioritize their well-being. This includes watching for signs of employee burnout and building meaningful relationships with their staff. It's also important to create regular agent engagement opportunities, offer tactful performance feedback, and be flexible in responding to team members' varying needs.
3 Performance Goals for Call Center Managers 
1. Find ways to improve current business processes.
Call center management must meet changes in the industry with both curiosity and strategy. Some call center managers are notorious for having the mentality of: "that's how it's always been," or "we've been doing it this way for years."
Improving business processes is a great performance goal for a call center manager because:
It promotes savings and efficiency in the call center: Many business processes are archaic, costing call centers more money and delaying operations.
It builds credibility with call center agents: Staff will appreciate a manager that works hard to find efficiencies. In the end, it makes the job of an agent easier!
When improving business processes, call center technology is a great place to start. For example, Fonolo Voice Call-Backs make high call volumes manageable, offering customers a call-back as an alternative to waiting on hold. By saving them time and frustration, you can build a more loyal customer base, which can improve your business' bottom line.
2. Build strong relationships with your call center agents. 
Agent attrition has always been high for call centers. While certain factors may be out of a call center manager's control, they still have a significant amount of influence over the employee experience.
Many agents cite problematic relationships with management as a reason for quitting. That's why call center managers need to strike a balance between providing support for their staff and giving them autonomy in their work. In other words, give your agents room to shine, while helping them meet their performance goals.
Workplace culture also plays a factor. If call center agents don't like the team dynamic, they will become disengaged in their work. That's why hiring the right staff members who align with your team's culture is key. If you haven't established values for your team yet, this disconnect is likely costing you agents.
Here are some ways to build strong relationships with your existing call center agents:
Schedule regular one-on-one meetings.
Offer flexible scheduling.
Share constructive feedback and recognition for good work.
3. Improve KPIs. 
KPIs, or key performance indicators, show us helpful insights about the efficiency of a call center. If a call center's KPIs are good, that generally means agents are happy and engaged, and the call center manager is managing them effectively.
Focus on a few KPIs like average speed to answer, customer satisfaction (CSAT), and average handle time. Let's say you compared a few KPIs starting the day you first started your job as manager, and then again in 3 months. Improved KPIs might indicate you did a great job managing in the last few months, while decreased KPIS might indicate room for improvement.
TIP:
Look at KPIs holistically when setting call center management goals. Metrics should be used in conjunction with other goals to assess performance.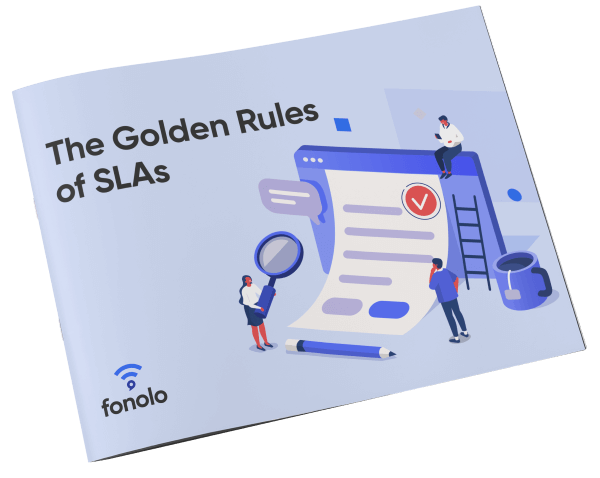 The Golden Rules of SLAs
If you're looking to quickly study up on SLAs, look no further. Download this free white paper to become an expert.